Review: Dawnbreaker - Deus Vult
Mace Beard


08/17/2018 05:33PM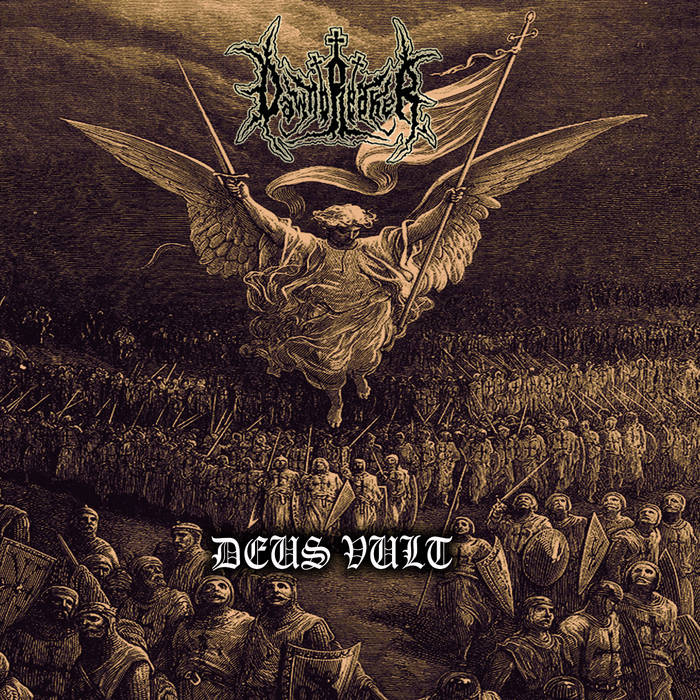 Release date: May 25, 2018
Record label: New Templar Records
Tracklisting:
Vileness Exalted
To Jerusalem
Dawnbreaker
Burnt Offerings
Deus Vult
Armor of Light
ReChristianize
New World Crusade
So this new album, released on May 25, 2018 (brand new!) was sent to me by Cullen Toner, the brainchild of the new Christian metal band, Dawnbreaker. I had heard of the band before and I am aware of it being unblack metal/black metal, mixed with some death metal. As many of you know, I'm not a huge fan of the black metal genre, but I going to give this album a listen with open ears! I like some stuff like Cerimonial Sacred, Ascending King, Elgibbor and Aggelos. Been getting into some Antestor here too. So here we go!!!
The album starts with "Vileness Exalted" which already starts off incredibly fast with amazing drums work and awesome guitars. There is also some really cool symphonic opera vocals. Toner's vocals come into the song and just wreak havoc everywhere! Really good vocals. The song is kind of short in Black metal standards. But still is pretty awesome!
"To Jerusalem" brings a more symphonic element to the table. The track begins with some symphony and comes in with heavy material. The song has some grind and some sludge to it, with Toner's sort of stereotypical black metal vocals, except better production quality. There's a pretty cool solo in here, but the drums kind of play over it.
The self-titled "Dawnbreaker" starts off grunge/punk-esque material and brings forth heavy vocals. The black metal drums comes in around a minute 15, and continue with the grind/death guitars. Toner's vocals kill on this track, as does his instrumentation. His vocals remind me of Darren Johnson of Living Sacrifice's thrash vocals and Jarek Pozarycki of Elgibbor's vocals.
"Burnt Offerings" is the fourth track on this so far awesome release! It begins with vocals that you would think would fit in like an ancient temple in a movie like Indiana Jones or Star Wars or something like that. (The first two that came to mind; Temple of Doom and Revenge of the Sith). The drums are slow and grimy to start, while the guitars a magnificent as ever. The track is a minute and 38 seconds long and is a great instrumental track, one which I thoroughly recommend to a friend that says they cannot stand the vocals of heavy music. (I have too many of those, hence why I bring it up).
"Deus Vult" follows the 1:38 track "Burnt Offerings" with a 7:10 minute length. The song starts off very slow - 4-4 timing on the drums - and by 30 seconds, the vocals come in with a very Pantokrator-esque style, while the music remains very black metal but also some weird punk rock sounding influence to it. The temple of doom-esque backing vocals make a return in this track. Long song with a lot of black metal style to it, for mostly Cullen mostly referring to them as death metal.
"Armor of Light" starts off fast with awesome guitar work and some intriguing floor-tom playing. Then it goes into the straight-forward black metal style, with Cullen's vocals and the black metal-style drums and guitars. However, it shifts into a thrash metal-style for a brief measure, which is a nice change of pace. 'Armor of Light! Armor of Light! Armor of Liiiiiighhhhht!'
"ReChristianize" starts off with thrash metal style and straight up grinds. Temple of Doom vocals present again. Sorry, it's just what I hear haha. The guitars continue going down the path of black metal, but the drums change here and there to standard BM-blastbeats, while also venturing into more simple thrash/hardcore rhythms. There are no vocals in this song. By the end of song, there is a sick doom metal style before it fades off into the distance.
"New World Crusade" comes in fast as the final song of the overall fantastic black metal/death metal album. Cullen does not hold back! His vocal performance is amazing, while his instrumental performance is just phenomenal. Especially the guitar solo near the end of the song.
Overall: The black metal behemoth known as Dawnbreaker is going to make some waves with this album. Another tale of redemption for one of the secular music-scene's avid supporter, and it is beautiful all the same. Cullen has been in the secular/anti-Christian metal scene to understand the ins and outs of black metal and how to combat the anti-Christian message. Deus Vult was a strong debut and a follow up will be phenomenal.
FFO: Elgibbor, Pantokrator
Signed
The Bearded Dragon